Hey there ya all... as anyone who knows me whether from one of the many social sites I am on or you know me in real life you know I am very fond of pretty things... more affectionately called "my favorite sparklies" because this is a term my baby girls know what I mean.
I am also a fan of things that are in my opinion different. I have gotten into the whole social media thing much more lately and today while networking aka browsing around in a group I am pretty new to I came across some really neat items, from some really great sellers. I wish I had time to share them all but for now I feel I just HAVE to share this one sellers shop that their items really popped out to me. So much so I shared them on everything I could think of and now blogging about FireWireWorks on Etsy too.
If you love beautiful quality pieces that I promise will be sure to catch attention, then this shop is for YOU! The name of their shop itself just demands attention (and let me add it is deserved attention).
https://www.etsy.com/shop/firewireworks
(Etsy Store)
https://www.facebook.com/firewire.works (FaceBook)

Currently they have a

coupon code

too if you enter coupon code

Fireworks25

you get $25 off any item $90+ Valid Until July 6th 2014 (This is really one of those Don't Wait & Miss It Kind Of Deals).
Here is one of my personal favorites. One of the ones I have added to my own personal "Hubby Hints Gift List" which is a little way I have to share with him the shops & items I love online so he knows for Birthdays, Holidays, and just whenever he feels like showing me how wonderful a wife I am....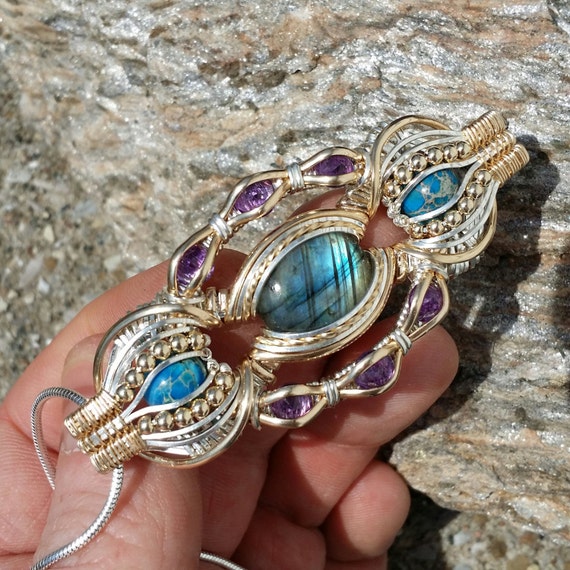 This item above can be found in their shop right now.
It is FAR from cheaply made, as I am sure you can tell by looking at it. The craftsmanship is exceptional & materials used include:
Labradorite, Sea Sediment Jasper, Amethyst 925 & 14k YGF - this is NOT your Walmart junk by far and that is just one of the reasons their items caught my attention.
While visiting their shop DO NOT MISS THEIR RINGS - they are not only beautiful but some of them, at least to me have a "feeling" when looking at them. Like the one I am going to share here. This ring just makes me feel wild,a bit mysterious and a spark of that evil side peering through.... fantasy also comes to mind as well. Now whether they were going for this look I do not know, but with any art many times it is what the customer/viewer sees/feels that really is what even the artist is going for... and in sales it is important that your items actually spark an emotion or a feeling in the customer and this seller/artist has that part nailed!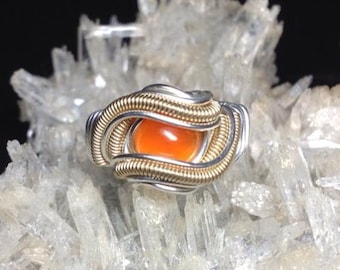 Okay, I am going to let you visit https://www.etsy.com/shop/FireWireWorks
and decide for yourself. I however would NOT be sharing this here if I did not believe that it was 100% worth sharing. Those who know me from my blog, or anywhere on line or in offline life know I am always so busy I barely get time to blog anymore SO you know for me with this shop.... it was love at first sight.
FireWireWorks & their Etsy shop lit a spark so to speak and got me started finally writing about shops I adore. SO THANK YOU.... and yep I have you on that special Hubby Hint Shopping List if mine, so hoping to be wearing one of your pieces in as near of future as possible...
This post brought to you by yours truly, Kim Sager
Owner of ThenAndAgainTreasures Store on eBay, Mom & Loving Wife along with being a Super Multitasking Woman
See More on my About.Me Website Page